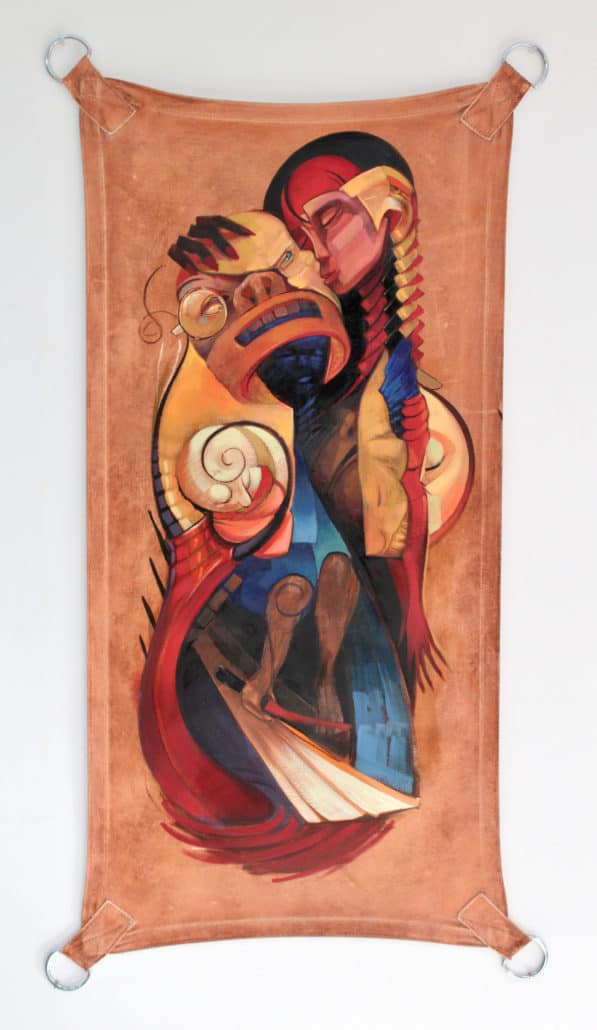 0
Weeks
0
Days
0
Hours
0
Minutes
PHIL JARVIS "The Traveler"
from November 18 to January 13, 2017
The exhibition project was born from the collaboration between Nero Gallery and HB production.
Two realities in synergy with each other:
Nero Gallery is a small and innovative art gallery, located at Pigneto, which deals with Lowbrow art and Pop surrealism. For three years now it has been promoting young Italian artists and is committed to bringing in Italy foreign artists known internationally.
Hb Production is a graphic and communication studio formed by a young team with great enforcement capacities, fantasy, and cutting-edge ideas.
The main mission is the management and renewal of the customer image through the use of high-profile styling solutions and the creation of products constantly evolving with the surrounding environment.
hbproduction.org
From this union is born "The Traveler", Phil Jarvis solo show.
Phil Jarvis is an American artist from Saint Louise. His artistic work ranges from lettering to murals without neglecting pictorial art from paintings to graphite designs. His creations take up surrealistic and geometric poetics with a wise and powerful color use. He lets himself be carried by the graphic sign, its reference matrix, bringing it to contemporary and new abstract dimensions.
www.philjarvispaintings.com
On November 17 at 6pm with a PREVIEW of the exhibition @Hb Production (via dei Reti, 60-Rome)
On the spot a limited series of Serigraphies will be printed with an unpublished image created by the artist for the event. The artist will be present and sign the silkscreens. The event will be accompanied by a Djset.
With the support of Artistan.
Artisan is a local that deals only with beers and artisan distillates, aims to re-valorize the products of the Italian and international hand made, also through cultural events.
VERNISSAGE "The Traveler" with Live Act by Luca Longobardi on November 18 at 19.00 @Nero Gallery
(via Castruccio Castracane, 9th Rome)
There will be a live painting that Phil will perform in collaboration with Luca Longobardi who will give voice with his music to Phil's canvas by performing a Live Act.
The performance consists in an electroacoustic improvisation based on a sound scheme generated by a 3D structure, designed with Iannix, which resembles the design of Phil Jarvis's work.
www.soundcloud.com/Luca-Longobardi
"The Traveler"
Phil Jarvis sets out for the first time in Europe after his success in the US. Now known in Italy for his window stickers that we can admire in many of the most famous tattooer studios.
The theme of the exhibition is the traveler representing Phil's artistic and personal career. The journey is very dear to him and through his works he shares it for the first time with the Italian audience. City sketches, dreamlike atmospheres and extravagant characters represent its work. They are small narrations of his wander from town to town and from nation to nation. Like a contemporary Ulysses, he makes known and tells about his upsetting episodes, sometimes funny and sometimes enigmatic.
A multifaceted and free spirit, he seeks in every work to convey his soul and eccentric spirit.
In the exhibition you will find more than ten sketches and some canvases, many characters and landscapes are the narration of his past trip to Italy.